What is StarStats™ ?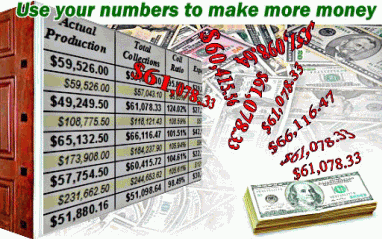 StarStats™is professional software designed to track, analyze, and evaluate recorded statistical data of your practice. It enables you to monitor, assess, and understand the financial health of your organization as well as give direction in your business.

Instantly know the direction your business is headed.

Understand the financial health of your medical practice. Determine your:
Total Profit and Net Profit per Case.
How many Visits are needed to make a Profit.
Overhead.
Average Expenses.
Cost per Patient as well as Cost per Case, etc...
63.87% Overhead
Average Expenses - $37,229.28
Cost per Visit - $41.29
Cost per Case - $1,294.93
Net Profit - $21,062.91
Net Profit per Case - $732.62

Visits to Produce a Profit - 20.03

Track on a daily basis what has been done:
Services rendered.
Money collected.
Insurance filed.
Total patients seen, etc...
---
Clicking on "Get Key" link below will provide an activation code good for 60 days of Free Service:
---

Keep a "pulse" on the business as a whole. Monitor:
Total Patient Visits.
Patients Cancelations.
How many New Patients.
Daily Production and Income.

Understand the financial health of your organization. Know your:
Average Dollars Produced.
Average Dollars Produced per Visit and per Case.
Average Dollars ($$$) Income.
Average Dollars Income per Patient Visit and per Case.
Monthly average Patient Visits and New Patients.
| | |
| --- | --- |
| Production | Collections |
| Average Production - $72,345.41 | $58,292.19 - Average Income |
| Avg $ Produced per Visit - $80.23 | $64.64 - Average $ Income per Visit |
| Avg $ Produced per Case - $2,516.36 | $2,027.55 - Average $ Income per Case |
Other Benefits are:
Easy to use software that will automate your "Day Sheet" of daily activities.
Flexible and Applicable to most any Medical Organization: Monitor the Activities for the Entire Practice and/or for each Associate.
Easy Point and Click Operation: At the click of a few buttons StarStats will automatically calculate, analyze and evaluate the statistics entered.
Time Saving Analysis: Recording the data into StarStats should take about 10 to 15 minutes because the information is simply taken off the "day sheet" of activities. Simple calculations are done automatically while data is entered.
Automation requires less of your time.
We focus on custom-fit, flexible solutions and reports: We address your crucial business requirements.
Proven field results (field tested): StarStats™ has been proven, in the field. Dr. Joseph Hornberger, co-founder of StarStats™, has personally experienced the trials and tribulations of accurately compiling and calculating office statistics. Dr Joe has thoroughly tested StarStats™ in his own practice.
Make you and your employees more productive: Analyzing the medical practice at any time and know if goals were reached.
Reduction of fraud or unintended mistakes: Enter data more accurately than recording by hand on paper the business activities during the day.
A repetitive and daily analysis of office statistics gives doctors increase understanding of their practice and patient development parameters...
StarStats™ can help the doctor to easily understand statistical analyses so he or she can become a better, more efficient office manager.
StarStats™ will result in less time managing and more time practicing!
Free Upgrades.
Available Tech Support.
Regular Enhancements implemented based on feedback and suggestions from our clients.
A list of Some Daily statistics:
Determine your Profit, your Net Profit Per Case, and how many visits you need to produce a Profit.

Know your Overhead, your Average Expenses, your Cost per Patient Visit, as well as your Cost per Case.

Determine Production Dollars and Income for each Associate and/or for the Entire Practice.

Know your Average Dollars Produced and Average Dollar Income.

Keep track of Total Patients Seen, Average Patient Visits and how many New Patients as well as which Patients are under a Managed Care Program and the number of Repeat Old Patients.

Be informed of your Scheduled Appointments, which appointments are Walk Ins, Missed Appointments and the percentage of Missed Appointments.
For questions and or suggestions contact hs@hornbergersoftware.com